Infrascale DRAAS - Worry-free Backup, Disaster Recovery, and Testing
Whether server crash, human error, malicious activity, or natural disaster, a localised or site-wide incident means unanticipated costs or unplanned downtime, both come with a price!
Offsite data backup is simply not enough – data does not operate by itself. To keep your business running, the critical servers and business processes that manage your data must also be recovered. Infrascale Disaster Recovery (IDR) is a hybrid-cloud disaster recovery solution that helps mitigate the downtime caused by server crashes, ransomware attacks, or natural disasters. IDR does this through simple and fast backup and restore of files and folders, or full server and virtual machine failover and failback.
With Infrascale Disaster Recovery, your data is ALWAYS protected and ALWAYS available… when you need it.
How does it work?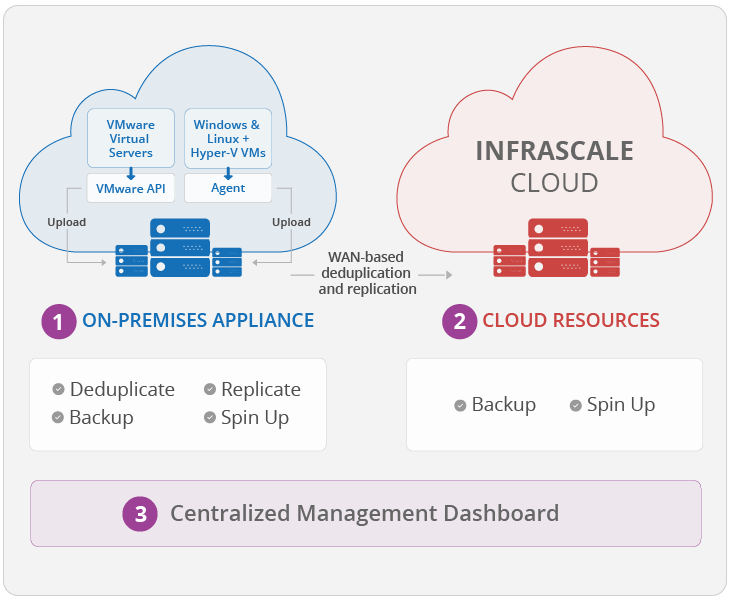 ELIMINATE DOWNTIME & DATA LOSS.
START RECOVERY IN MINUTES!
There are three components to the solution:
Primary Cloud Failover appliance (CFA) located on premise alongside your servers and data to be protected.
Infrascale cloud storage and compute resources are the target for your backup data and dedicated resources to spin up and recover instances of your servers.
Infrascale dashboard provides central management for all of your Infrascale services, including DRaaS.
When stored on the primary, data is deduplicated, compressed and encrypted.
Only unique (deduplicated) content is replicated to the cloud – also compressed and encrypted with AES 256-bit encryption.
In the cloud, the data is encrypted and synchronized with the primary.
You can restore files, folders, full virtual and physical machines from the primary or cloud. Data can be pushed to its original location, new one, or exposed on appliance as a NAS share.
To recover from a local/micro-disaster, spin up a single server on your primary appliance. With IDR Cloud, you can spin up your servers manually or via orchestration with your dedicated cloud resources. At the end of your disaster, failback to your original on-premises server to capture changes to the source.
Supported backup targets

Infrascale Cloud Backup (ICB) - Backup and protect your endpoint data and never pay a ransom
Ease  of Use

Security

Easy to manage

Backup Critical data

File and folder backup
SQL server databases
Exchange server databases
Quickbooks and other accounting files

Protect from Ransomware

Anomaly detection
Proactive alerting
File version history
Easy rollback

Automate Install & security

Support branch offices
Simple MSI builder
Automated provisioning
Granular permissions
Choose data centre

Backup wherever you work

Windows and MAC OS
iOS & Android phones
Windows servers
On/off network devices

Manage device loss prevention

Geolocation for windows laptops
Device management
Remote wipe options

Remotely service with ease

Centralised intuitive dashboard or API/SDK
Invisible backup agents
No VPN required
No user reboot required
Fast uploads and recoveries

Restore quickly and with ease

Built in local backup for quicker restores and higher redundancy
Localised in eight languages

Enforce security and encryption

Multifactor authentication offers additional security layer for accessing backup data
AES-256 encryption

Monitor and report

Granular monitoring
Automated reporting
Extract device level audit logs
Generate historical reports
ICB is a direct-to-cloud endpoint backup solution that protects business devices such as laptops and desktops, as well as servers including Microsoft Exchange and SQL databases – all in one solution. ICB offers unlimited data retention and version history for an unlimited number of endpoint devices, captures real-time changes via Live Protect, and safeguards against ransomware threats with advanced anomaly detection.